PELCO CCTV Systems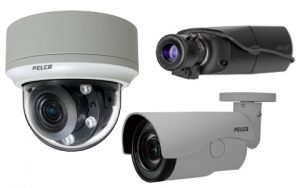 Crown Technology
is providing CCTV syatems based on PELCO product, Pelco offers the broadest selection of IP cameras designed for security surveillance in a wide variety of commercial and industrial settings. From industry-leading fixed and high-speed IP cameras to panoramic, thermal imaging, explosionproof and more, we offer a camera for any environment, any lighting condition and any application.
Fixed IP Cameras
A complete line of Fixed IP bullet, box and dome cameras for any lighting condition, any application and any environment
PTZ IP Cameras
best in enclosure design, pan-and-tilt mechanics, and receiver technologies to produce the industry's leading high-speed camera system.
Panoramic IP Cameras
Featuring 12 MP resolution with electronic PTZ across the entire panorama for the highest-quality, most uniform image detail possible.
Specialty IP Cameras
Thermal Imaging, Explosionproof & Fortified Camera Systems. a variety of specialty camera systems specifically designed to deliver the highest-quality video in the harshest environments and lighting conditions.